SSL is an acronym for Secure Sockets layer, a feature that encrypts connections between a browser's computer and the web server to which it is connected. Having an SSL certifies your identity and protects personal information. With more personal data being transmitted online than ever before, the need for encrypted browser activity is extremely important.
You can check to see if your activity is protected with an SSL by looking for a green padlock next to the URL web address.

In some browsers there will be a green address bar. But in all browsers the URL will begin with https://.
If you see green you are safe. But what if you don't see any green indication? Well, at least you're not seeing red! A lot of websites use an address that points from http://. Understandably so – that's how they've always been and it's not your thing to analyze progressive browser encryption updates. However, with Google staying multiple steps ahead of its online audience, their core principle is to make the web better by making it more secure.
So, what does Google like? Secure websites! Their theory is – you value a safer, more secure Internet experience just like we do, so we will return the favor by favoring you. Kudos to you! Literally. Utilizing an SSL is just one of many, many ways to boost search engine exposure.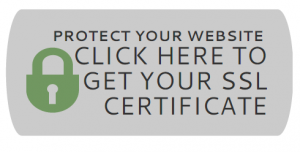 SEO goes beyond optimizing for keywords and meta tags – it encompasses a wide range of details,  such as an SSL certificate. If you are interested in aggressive search engine optimization, consider beginning with an SSL so that your audience knows they are secure.